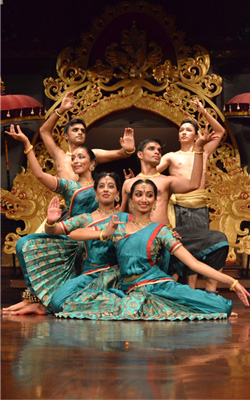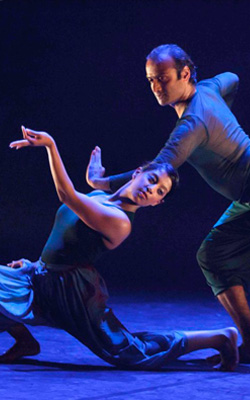 Described by the New York Times as 'a dance company of rare vitality', SAMPRADAYA Dance Creations is an award winning Canadian professional dance company specializing in the creation and production of classical and contemporary dance works rooted in the Indian Classical dance form of bharatanatyam. SAMPRADAYA's strength lies in its pursuit of excellence in the creation of a stunning range of solo and ensemble works that are infused with the creativity of Indian dance vocabularies, while inspiring audiences with the its innovative approaches to traditional movement.
SAMPRADAYA Dance Creations' maintains a strong presence in the Canadian dance scene through its national tours and festival participation. SAMPRADAYA Dance Creations has toured across Canada and internationally to India, the United States, Indonesia and Ireland.
"a dance company of rare vitality " – New York Times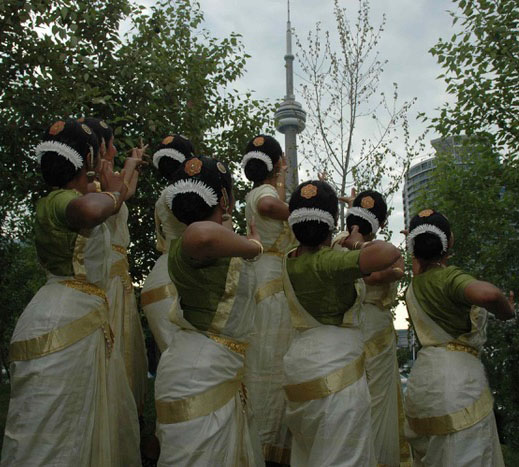 Sampradaya Dance Creations was founded in 1990 by Lata Pada. In the past 28 years, SAMPRADAYA Dance Creations has carved a unique niche for its work in classical and contemporary bharatanatyam. The Company's strengths lie in its professional productions and diverse repertoire. Its versatility is showcased in traditional classical performances of bharatanatyam as well as its innovative inter-cultural dance works.
SAMPRADAYA Dance Creations has evolved from a creation/production dance company into a South Asian dance development organization in 2006. Under Lata Pada's artistic stewardship, supported by the Board's strategic visioning, the Company is at the forefront of initiating unique arts learning and community outreach projects, serving a diverse constituency. The Company has grown organically, over the past twenty years, into a community leader- a development organization for South Asian dance in Canada and has founded the South Asian Dance Alliance of Canada (SADAC) in April 2008.
The Company and its sister organization, SAMPRADAYA Dance Academy operate out of a 6800 square foot leased facility. SAMPRADAYA Dance Centre has four studios with sprung floors, a board room and three offices. The centre has a 100 seater black box theatre with state of the art lighting, sound and projection systems. It is a vibrant community hub that supports training, creation and community programs and collaborations with other Mississauga and Toronto based arts groups.
Assistant Artistic Director
Growing up in the Middle East, Suma Nair was initiated into the study of the Indian classical dance form of bharatanatyam under the training of Sujatha Suresh. She continues to practice, teach and perform the style.
Suma holds an MFA in Dance Choreography from York University and was awarded the Susan Crocker and John Hunkin Scholarship in Fine Arts for 2014-2015. Her works include Kindred (2016), Transcendence (2016) and a remount of the work "Howzat" for Sampradaya Dance Creations (2017). Suma draws upon her training as an Indian Classical dancer to create the foundation to explore new forms of dance expression that combine Indian Classical and Contemporary styles.
She also holds a Master's in Business Management and Mass Communications and with her experience in Event Management and Public Relations, Suma Nair blends her existing skill sets with a career in the performing arts.
She has also received training in documentary filmmaking from Algonquin College, Ottawa and was selected as a part of three-member film crew to work with the NGO Save The Children in Haiti, post the earthquake in 2010.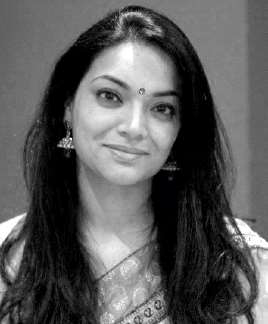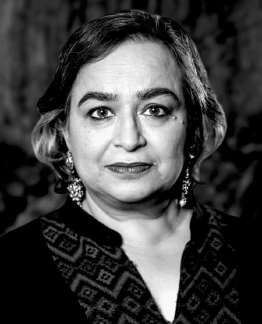 Jasmine Sawant has always held a deep passion for the arts. Drawing on varied work experiences and a lengthy association with the arts, Ms. Sawant is focused on nurturing and sustaining the growth and development of SAMPRADAYA Dance Creations, while upholding the vision, values and mandate of the organization.
Devoted to the enrichment of the South Asian performing arts in Canada, Jasmine is an active member of the arts community, as an actor and an award-wining writer and as the co-founder and artistic co-director of the award-winning SAWITRI Theatre Group, a Mississauga-based woman-centric and new generation-focused theatre company. She is also a board member of the Mississauga Writers Group and the Small Arms Society and sits on the community advisory panel of the Meadowvale Theatre and is on the Arts Culture and Heritage Ad Hoc Committee of City of Mississauga. In the past she has volunteered her time to the Scouts Canada-Central Escarpment region, Peel Health's Community Food Advisor Program and in the co-ordination of South Asian cultural community events.
Prior to joining SAMPRADAYA Dance Creations, Jasmine worked at ARI Financial Services, Mississauga where she was responsible for corporate accounts and customer service. She has also worked at the International Indian School Dammam (formerly the Indian Embassy School Dammam) in Saudi Arabia, the French Embassy in Bahrain and the Max Mueller Bhavan (Goethe Institute) in Mumbai.
Jasmine holds a diploma in Arts Administration from Humber College, a degree in Accounting from the University of Mumbai (formerly the University of Bombay), diplomas in both Journalism and French.
Naren is a Planner, Entrepreneur and Community Organizer with degrees in Art History and Urban Planning. He began his career working with arts and culture nonprofits on capacity building, governance and strategy development and led research on the economic impacts of investments in the cultural sector. Naren has spent the past decade growing his entrepreneurial pursuits and currently is the CEO of Simplevolution Ltd. while contributing to various civic society organizations including most recently serving as a Director for TedXCalgary. He is passionate about Indian Classical Art forms and is eager to contribute to the continued excellence of Sampradaya Dance Creations.
Pankaj Mehra – Vice President
Pankaj Mehra is a career banker with over 4 decades of banking experience in senior roles across India, England and the Middle East. He retired on January 31, 2018 as the Co-Lead, Multicultural Banking after 20+ years of service at Scotiabank. In this capacity, he was responsible for the overarching strategy for the development and implementation of programs and initiatives for assisting newcomers to Canada through Scotiabank's StartRight Program.
Raghuram Sitaram – Secretary
Raghuram is a seasoned business leader with 15+ years experience in digital media management. He has held senior management positions in India for large MNCs such as Convergys and Fidelity Investments.His experience spans multiple industries including information technology, media & entertainment, business process outsourcing, eLearning and digital marketing. He currently heads client services, delivery and operations for a rapidly growing digital marketing agency in Toronto. Raghu is proficient in developing lead generation funnels via paid, organic, email, affiliate and social media channels. He is also a digital marketing 'Platinum Trainer' at SimpliLearn.com a global leader in online certification programs.
While in India, Raghu pursued various performing arts alongside his career. He enacted a central role in one of India's landmark television serials in the late 80s, 'Malgudi Days'. Raghu has been a student of Dr. Jayashree Rajagopalan (the foremost disciple of the internationally renowned Indian danseuse Dr. Padma Subrahmanyam), for 18 years in Mumbai. Raghu was one of the dancers in the legendary Hindi film star Smt. Hema Malini's dance ballet troupe ''Natya Vihar Kala Kendra. He performed in over 30 stage shows during 1991 – 93.
Harish Athale – Treasurer
Harish is a senior finance professional and holds designations from India, UK, USA and Canada. His career encompasses work experience in India, Africa and North America, where he has held leadership roles with multinational corporations. Currently, he is the Financial Controller of Airfield Lighting business unit of Thomas and Betts Limited, a member of Swiss multi-national Asea Brown Boveri (ABB) group. Harish is actively involved with various Canadian charities including India Rainbow Community Services of Peel, The Malhar Group Music Circle of Ontario, Maharashtra Seva Samiti Organization (MSSO), Toronto Chapter and is now pleased to serve on the Board of Sampradaya Dance Creations. He is an ardent Indian classical music lover and has organized many classical and semi-classical music programs including Canadian debut concerts for a number of artists zoloft, appreciated by discerning audience. In addition he has acted in various plays and provided logistic support to local stage productions. Since 2001, Harish has made Canada is home and has enjoyed living in Oakville along with his wife Uma, a pediatric hemato-oncologist at McMaster Children's Hospital, Hamilton and their daughter, Abha, a medical student at Midwestern University in Glendale, Arizona.
Shamy's natural passion for art led her to creativity and drawing at a very young age. Choosing creative thinking became an easy career path to follow as she graduated in Applied Arts with a focus on Advertising and the Power of the written word. This knowledge, coupled with her education at the University of Toronto in Marketing has led her to become an innovative and resourceful Marketing & Communications Manager well versed in all aspects of marketing campaigns from concept development to execution and launch. She has worked in various B2B and B2C industries such as Senior Living, Funeral and Cemetery, HR Solutions, Insurance Services, Government Funded Agency and Industrial Automation.
Jaspreet has spent most of her career in academia as an Adjunct Professor in the Departments of English and Humanities at York University, specializing in Postcolonial and South Asian Studies. She has taught such courses as Sikh History, South Asian Religions, Women's Fiction and Postcolonial Literature. She has a published chapter in the books, Subaltern Vision: A Study in Postcolonial Indian English Text and Shah Rukh Khan and the Global Bollywood. In 2015, she made the transition to the social services sector to work in the area of violence against women, joining Social Services Network as the Coordinator of Family Violence Programs. She is now the Case Manager at the York Region Centre for Community Safety, a multi-service hub that provides a single entry point for victims of domestic violence to receive support and services. Jaspreet is also a Board of Director at Community Living York South, a not-for-profit organization that provides support services to children, youth, adults and seniors who have an intellectual disability.