Momentum Festival 2023 is a presentation platform to showcase the diversity and richness of South Asian dance forms and provide a platform for artists to share their artistry with Canadian audiences.
The festival aims to promote cultural exchange and foster a deeper understanding and appreciation of South Asian dance and culture. Momentum Festival 2023 seeks to inspire and engage audiences, celebrate the vibrancy of South Asian dance, and create a space for artists to connect and collaborate.
Click here to purchase your tickets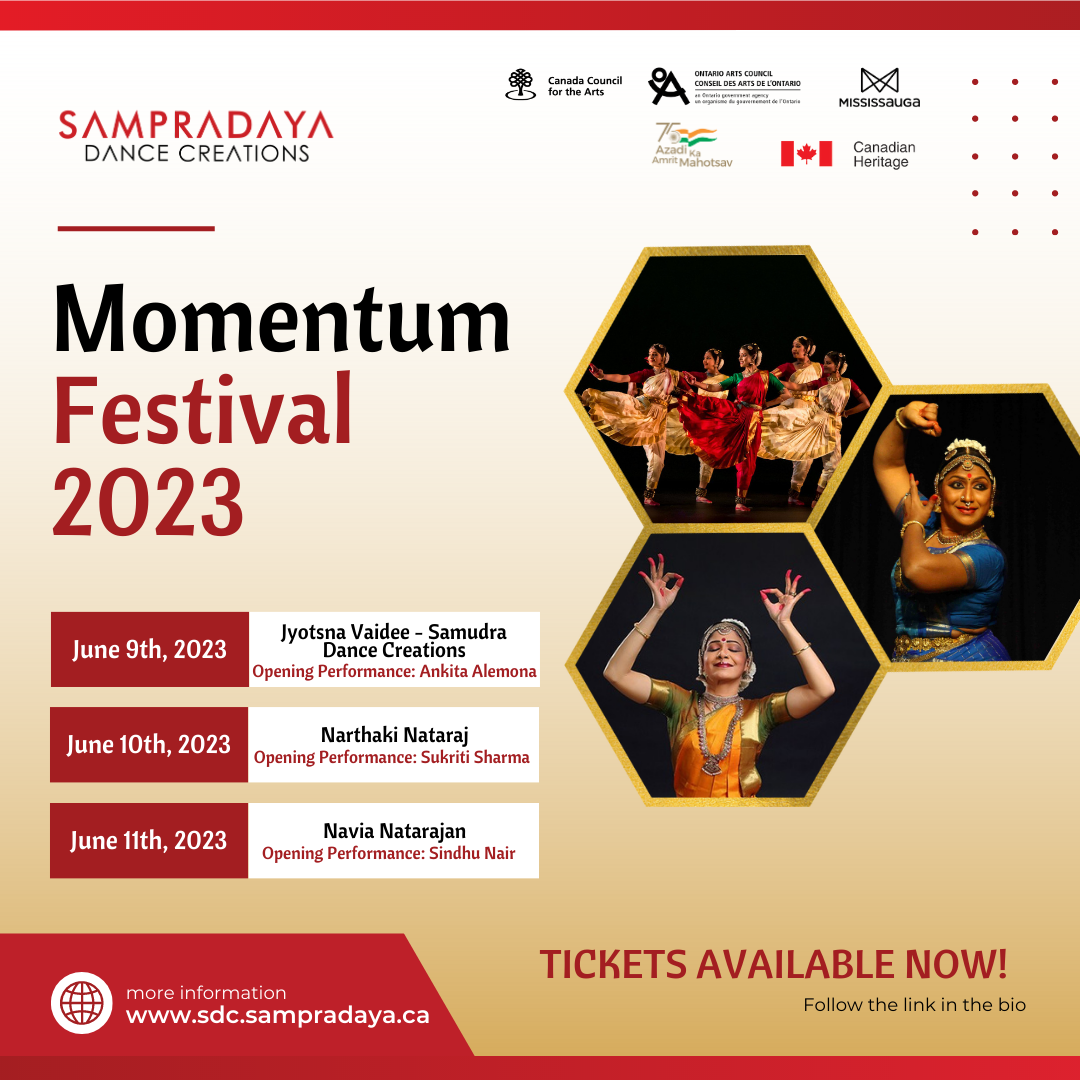 With years of experience as a leader in the South Asian dance sector, we have identified several key challenges facing culturally diverse dancers, including limited resources, professional development opportunities, and performance venues. To address these issues, we are launching the ShareSpace project, an annual initiative aimed at supporting dance artists within the dance community.
As part of this initiative, we will be providing two independent culturally diverse and indigenous dance artists with 100 hours of free studio space from April - June, 2023. The ShareSpace Program is intended solely for use of studios as rehearsal and creation spaces. Our goal with this initiative is to provide valuable support to those who face unique challenges in pursuing their art, and to help create a more inclusive and equitable dance community.
Click here to apply.
The dance production "Mandala" recently completed a successful tour of India, with performances held in major cities including Delhi, Mumbai, Lucknow, Ahmedabad, Chennai, Bengaluru, and Kolkata between December 16, 2022, and January 1, 2023. The show, which featured a blend of Bharatanatyam and Kathak, was met with rave reviews from audiences. The talented cast and crew were praised for their skillful execution of the choreography and the stunning visual effects that were used to bring the performance to life. The tour was a huge success and solidified "Mandala" as one of the most exciting dance productions.
Click here to read the press articles.
Sampradaya Dance Creations is an award-winning Canadian professional dance company specializing in creating and producing classical and contemporary dance works rooted in the South Asian dance form of Bharatanatyam. Sampradaya's strength lies in its pursuit of excellence by creating a stunning range of solo and ensemble works that are infused with the creativity of Indian dance vocabularies and inspiring audiences with its innovative approaches to traditional movement.
Sampradaya Dance Creations maintains a strong presence in the Canadian dance scene through its national tours and festival participation. Sampradaya Dance Creations has toured across Canada and internationally to India, the United States, Indonesia and Ireland.